The 7 man-made wonders of Detroit, Model D, 1/19/16
The world is full of man-made wonders — monuments and structures that, though they seem at first beyond our capabilities, we somehow find a way to build. There are ancient and medieval wonders like the Great Pyramid of Giza and the Great Wall of China, as well as contemporary ones like the Burj Khalifa, the world's tallest building, which juts a staggering 2,717 feet above the Arabian Peninsula.
Detroit, too, is home to wonders of its own, albeit modest ones in comparison to those of other cities. [Read more]
3 Things that could transform metro Detroit in 2016, Metromode, 1/7/16
2016 stands to be a big year for metro Detroit. Here are three of the issues that have the potential to transform the region. [Read more]
In search of Detroit's most beautiful blocks – Model D, 11/10/15
Detroit is seldom celebrated for its beauty. National and local outlets love to expound the city's "gritty" virtues (can we retire this word, please?), but rarely do you hear much about prettiness in the city. Though it's become a cliché, it's worth re-printing Elmore Leonard's famous quote: "There are cities that get by on their good looks, offer climate and scenery, views of mountains or oceans, rockbound or with palm trees; and there are cities like Detroit that have to work for a living."
 
Yet beauty abounds across Detroit's 139 square miles, albeit in a pocketed, dispersed sort of way. It just requires a little extra attention to find and appreciate it. [Read more]
Giving United Sound, Detroit's other landmark music studio, its due – Model D, 10/20/15
It may not have the name recognition of Motown, but the United Sound Systems Recording Studios, the oldest operating independent recording studios in the country, are just as important. [Read more]
New Detroit Field Guide Released to Help Residents with Vacant Lots – Next City, 10/5/15
After decades of population loss, many of Detroit's neighborhoods are faced with an overabundance of vacant lots where houses once stood. Even the city's healthiest, densest areas aren't immune. Over 23.4 square miles of the city — 16.8 percent of Detroit's total area — is vacant land, and that excludes parks and rights of way. That number is expected to exceed 30 square miles as anti-blight demolition efforts are realized.
But tearing down neglected houses only addresses blight in the short term, as the lots that are left behind can quickly become overgrown and attract illegal dumping. [Read more]
Norm MacDonald's 115th Dream – Medium, 1/20/15
I am not an exceptionally gifted Twitter user. My tweets (just over 500 in all) rarely venture outside the realm of shameless self-promotion, beer-fueled reactions to live sporting events, and statements that verge on being overly-critical and mean. I often don't bother tweeting because I find it laborious and worry I'll type something that one day will get me in trouble. Mostly I use Twitter as a sort of 21st century news ticker — I just watch.
I was doing exactly that on the evening Jan. 19 around 7 p.m. Eastern Time when Norm MacDonald revealed himself to me as a master of the medium. [Read more]
Reclaiming a Detroit Road, One Parking Space at a Time – Next City, 9/10/15
Michigan Avenue, one of several "spoke" roads emanating from downtown Detroit, is an impressively long thoroughfare that runs westward beyond the city limits for hundreds of miles to Michigan's west coast.
But for business owners, residents and visitors in the Corktown neighborhood, the road's width is an issue. Seven lanes wide and nearly 100 feet across, Michigan Avenue feels more like a freeway than a neighborhood Main Street. [Read more]
Can Detroit's Vacant Factories Become Community Assets? – Next City, 7/13/15
Heading east along I-94 from Detroit's resurgent Midtown area, two massive structures loom on the horizon. For passing drivers, they're awe-inducing symbols of both the city's former industrial might and the dismaying scale of its post-industrial challenges.
The Fisher Body Plant 21, vacant since 1993, sticks out above the I-94/I-75 interchange. At just over half a million square feet of floor space, the plant that once produced car bodies for Chevrolet and Cadillac cuts a striking figure. But it's nothing compared to the Packard Plant 1.5 miles down the road. [Read more]
Baltimore and Detroit Get Aggressive With Nuisance Properties – Next City, 6/22/15
With a staggering 84,000-plus vacant properties — nearly a quarter of all properties in the city — Detroit is dealing with blight on a scale unknown anywhere else in the country. Baltimore, a much more compact city, has somewhere between 16,000 and 40,000 vacant properties, which are largely concentrated in the neighborhoods of its east and west sides. Nuisance properties pose significant challenges to neighborhoods and communities: They're fire and flooding hazards. They attract illegal scrapping, squatters and rodents. To battle blight, both cities are using everything from legal action to giant posters and talking with neighbors. [Read more]
On Detroit's East Side, Managing Vacant Land Takes Collaboration – Next City, 5/21/15
The verdure of spring is on full display in Detroit — but so, too, are the challenges of maintaining open land in a fiscally challenged city where over 30 percent of all parcels are vacant. Overgrowth and illegal dumping are not atypical features of many of the city's 100,000-plus vacant parcels.
In no section of the city are these challenges more evident than Detroit's lower east side, a 16-square-mile area that stretches from downtown to the city limits, bounded by the Detroit River to the south and I-94 to the north. [Read more]
Reimagining America's silliest Interstate – Model D, 5/12/15
Detroit blogs you need to be reading – Model D, 9/9/14 
Detroit's hottest exports (Hint: they're not just cars and watches) – Model D, 8/12/14
The Detroit-Hamtramck border along St. Aubin Street is an established center of automotive manufacturing, but these days the fastest growing company along that stretch isn't making car axles, engines, or other automobile components — it's making pickles.
In a blue-sided building that once housed the warranty and diagnostic center of manufacturing giant American Axle, employees of McClure's Pickles process and pickle cucumbers, producing about 5,000 jars per day that will be shipped to grocery stores around the country. [Read more]
Grown in Detroit, but not in the ground – Model D, 5/20/14
Lost in Hockeytown – A Detroit Anthology, May 2014
How Detroit became America's greatest sports city, MLive, 4/13/14
"You'd better start shaking yourself out of that second division complex of yours and get out there and hustle. Haven't you got any pride? You've been lolling in the hammock long enough."
That's what Gordon Stanley "Mickey" Cochrane, legendary catcher and player/manager for the Detroit Tigers, told his team and fans in the city of Detroit in a 1934 Detroit News story.
The Tigers, who were a perennial laughing stock in the years prior to Cochrane's arrival in Detroit, took their manager's words to heart. They went on to win the franchise's first ever World Series title in 1935, defeating the Chicago Cubs.
That year, Detroit's other major teams followed the Tigers' winning example. The Lions, at the time a new franchise in the city, went on to claim their first ever NFL Championship (yes, there was a time when the Lions could be called "champions"). On the day of the Lions' victory, the Detroit Red Wings moved into first place in their division and never looked back, eventually claiming their first ever Stanley Cup.
These three championships make the 1935-36 Detroit sports year the most impressive showing by any one city in the history of professional sports and effectively gave birth to the modern Detroit sports superfan. [Read more]
A vision of hope in one of Detroit's bleakest neighborhoods – Detroit Free Press, 1/16/14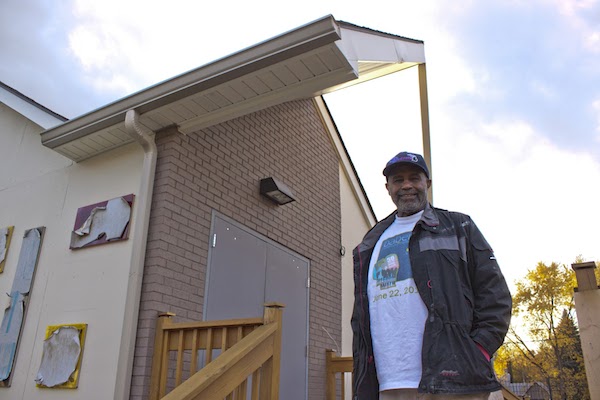 The Rev. Larry Simmons, the pastor at Baber Memorial A.M.E. church in Brightmoor, walks with a limp. It developed when he overexerted himself while hauling materials that are being used to build Baber's new facility.
"I guess I'm not as limber as I was when I was in my 20s," he jokes. But Rev. Simmons, for a man in his 60s, has a youthful energy about him, particularly when he talks about his church and the place his 112-member congregation calls home — Brightmoor.
"There's this spirit right now in Brightmoor that we're not waiting on others to do for us, but we are doing it for ourselves. We are realizing that we are the ones we were waiting on. In 10 years, this will be a wholly different community. Brightmoor, for all of its challenges, is a dynamic place to be right now. You can see it going up."
Hearing him tell his life story, it is apparent that Simmons always believed he could be a part of the change — and in fact drive it. [Read more]